Welcome to the Bathroom Studio Design blog, thank you for taking the time to stop by. We intend to update this blog as often as possible with the latest news and events. We will also keep you up to date with our latest special offers for elegant bespoke bathrooms in Essex and the surrounding areas. In addition, we will post advice articles to inspire and inform those looking for their dream bathroom. If you have any suggestions/questions for our blog, please send them to us using the link below.

Looking back on last Month
November was a fantastic month for the team here at Bathroom Studio Design. We've welcomed new customers in the showroom taking their first steps towards serenity and planning their ideal bathrooms in Essex. We also got to see the exquisite results of our recent installations, our favourite part of the job! This is because we get to see our customer's reactions to the transformation of their bathrooms. Our aim is to provide the wow factor when you enter the room. If Mr. Ballantyne's kind feedback is anything to go by, it seems we have succeeded;
The Month Ahead…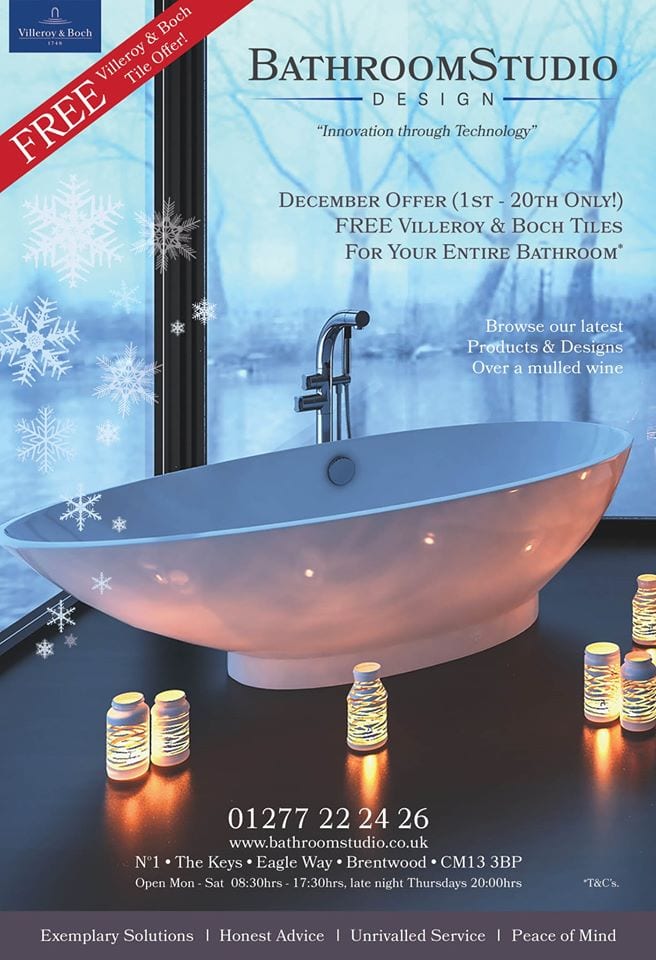 As we enter the festive season, December promises to be an exciting month. In the showroom, we are getting into the spirit (or at least the mulled wine) of things. Our new December offer starts today and runs until 20th December 2019. If you haven't already heard, we are offering FREE Villeroy & Boch tiles in Essex, for your entire bathroom!*
We have a range of both porcelain and ceramic tiles to choose from. This manufacturer's name alone guarantees quality and provides an elegant finish to complement our stylish collection of bathroom suites.
Don't Miss Out!
If you are looking for luxury, bespoke bathrooms in Essex, pop into the Bathroom Studio Design Showroom in Brentwood. You can browse our designs at your own leisure with a complimentary glass of seasonal mulled wine. With late-night shopping available on a Thursday throughout December (by private appointment), there's no excuse to miss out.